MIT Technology to Improve Ability (TTIA) program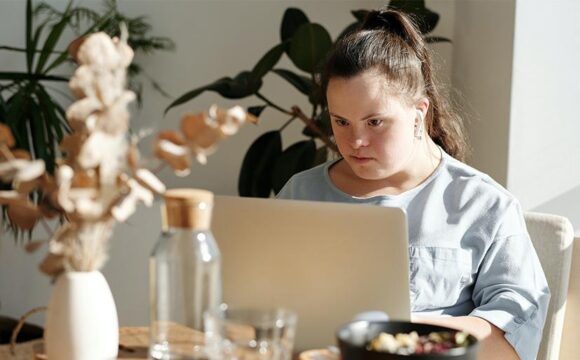 The mission of the TTIA program is to commercialize technology that will improve the quality of life for people with Down Syndrome and other disabilities. The Deshpande Center will assist MIT faculty and students in commercializing their technologies, taking promising ideas and innovations and turning them into products and services. While the focus is to help people with Down Syndrome, the innovations are also likely to aid a much broader population.
Grants will typically be awarded in the amount of $50,000 for one year, and may be renewed. Grants for more than $50,000 will require additional justification. Proposals can be submitted at any time, and funding decisions will be made within one month of submission. There are no submission deadlines, or pre-determined project start dates.
This program is made possible by the generous support of the Alana Foundation.
Improving muscle tone and physical ability and activity
Hypotonia (poor muscle tone) is a significant issue for people with Down Syndrome. Muscle tone can be improved through exercise and physical activity. The goal is to activate and train muscles to improve tone. Any increase in physical activity would also have health benefits.
Technologies to engage in physical activities to improve motor skills; Methods to improve oral and involuntary muscle movements (e.g., for digestion).
Technologies could include hardware, software, or games to get and keep individuals involved
Improving cognitive ability
People with Down Syndrome have delayed cognitive development, especially in the areas of abstract knowledge, cognitive flexibility, and memory.
Technologies, educational tools, or methodologies to improve learning ability, cognition, and memory
Tools to assess cognitive ability
Improving communication ability
Technologies to improve speech, and augmented or alternative communications
Technologies that make it easier to both communicate and understand communications
Enhancing independent living ability
Technologies that aid transportation and mobility (e.g. making it easier to use/navigate public transportation)
Tools to make everyday tasks easier (e.g. using appliances, doing laundry)
Aids to enable better decision making (e.g., healthier meal choices, via prompts and cues from devices)
Improving health
Improved sleep apnea diagnosis tools
Most people with Down Syndrome will eventually have Alzheimer's disease; better assessment tools and treatments for Alzheimer's disease
Adapting medical equipment for the craniofacial differences characteristic of Down Syndrome individuals to make equipment more comfortable and better fitting
Infants with Down Syndrome are subject to seizures; technologies to better understand predictors for infantile seizures.
For more information or to discuss an idea, please contact us at deshpandecenter@mit.edu. While you can submit a full proposal, we suggest that you first submit a short pre-proposal for feedback. We also recommend that you talk with people who understand the needs of the Down Syndrome community before submitting your pre-proposal or full proposal. The staff at the Deshpande Center and the Alana Down Syndrome Center at MIT can help you connect to the Down Syndrome community. If you do not receive an acknowledgment of receipt of a pre-proposal or proposal within 24 hours, please call our office at 617-253-0943.
How to apply
You may apply at any time. Download and complete the pre-proposal template and budget template, and email them to the Deshpande Center.
Who can apply
MIT faculty, researchers and students. Joint innovations with outside collaborators may be included.
Accepted technologies
Any technologies will be considered, including hardware, software/applications, tools, internet- or device-based applications, methodologies, products, and services.
Use of funds
Funds shall be used as described in the proposal.
Program participation
There is an expectation that faculty funded by the Deshpande Center are keen to see their research make an impact on the marketplace, whether through a start-up or some other license. The Center provides guidance and team building opportunities through its Catalyst (mentor) Program and connections to the entrepreneurial community. It hosts an annual spring IdeaStream conference, an annual fall Innovation Showcase/Open House, occasional workshops, and other events to enhance and showcase innovative work done at MIT. You understand that, if funded by the Center, you and your team will be asked to participate as appropriate. This includes presenting your technology at IdeaStream and staffing a poster both at the Open House and IdeaStream.
Acknowledgment of Deshpande Center support
Please agree to acknowledge the Deshpande Center Technology to Improve Ability Program support in any press releases, media communications, and website of any company that is started based on this technology.
Intellectual property
Deshpande Center project teams shall seek to establish IP where appropriate, via disclosures of potentially patentable inventions submitted to the MIT TLO per normal practice; please indicate that Deshpande Center funding was used to support the work. Copies of communications should be submitted to the Deshpande Center office in parallel.
Communication
The Principal Investigator shall communicate the project's progress through various means, including the following:
Initial kick-off meeting
Participation in the Deshpande Center Open House and IdeaStream events
Regular meetings with Catalyst (mentor) – as appropriate, usually monthly
Informal notification of all significant milestones achieved
A midterm and final meeting
Final written report or presentation to the Deshpande Center
Patent disclosures – as described above
Publications – Publication of results from work sponsored by the Center is encouraged, and with appropriate acknowledgment of the Deshpande Center support.
Media relations – When appropriate, grantees funded by the Center might be asked to interface with the press.
Conflict of interest
Faculty funded by the Deshpande Center should follow MIT guidelines in Policy and Procedures and be diligent to avoid conflict of interest related to the funding, research, or collaborators on the project.

To learn more about Down Syndrome
Alana — about Down Syndrome