Mission & Values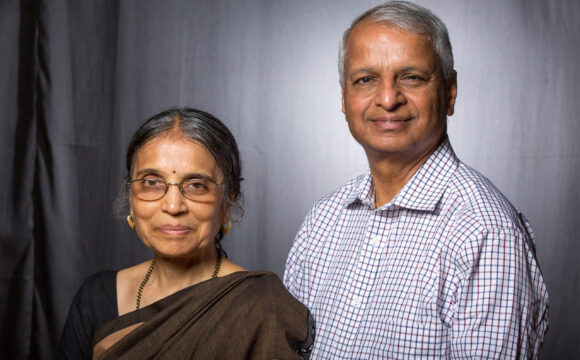 Impact: Our mission can be summed up in one word
Established in 2002 — through a generous gift from philanthropists Gururaj "Desh" Deshpande and his wife, Jaishree — the center empowers some of MIT's most-talented researchers to make a difference in the world by developing innovative technologies in the lab and bringing them to the marketplace in the form of breakthrough products and new companies. In turn, those innovations can help solve large and daunting problems in health, information technology, energy and other fields.
Providing Vital Support, Financial and Otherwise
In pursuing its mission, the center awards research grants and provides other types of assistance to faculty members whose work shows the potential to benefit society, transform markets and industries, and improve the quality of life for people across the globe.
To streamline a researcher's journey "from idea to impact," the Deshpande Center carries out several core activities.
Educating grant recipients about the innovation process.
Coaching grantees on how to commercialize their inventions and launch startup companies — skills they can leverage throughout their careers.
Providing research teams with mentoring and guidance from respected industry experts, venture investors, startup specialists, and entrepreneurs.
Encouraging today's innovators to impart the same skills and opportunities they have received to succeeding generations of MIT scientists and engineers.
Nurturing MIT's unique ecosystem of innovation and entrepreneurship.
Assisting organizations that want to follow MIT's example in fostering innovation and accelerating the impact of new discoveries.
Our Values
The Deshpande Center for Technological Innovation is committed to helping faculty and students move their innovative technologies to the market, where their ideas can make the world a better place for all. We operate on these core principles:
We are inclusive and encourage people to engage and participate as equals regardless of race, ethnicity, skin tone, physical features, national origin, language, gender, age, or religion. All people should be treated equally, decently, and with respect.
We uphold the highest standards of research conduct and scientific method.
We embrace early stage technology and thoughtful risk-taking, investing in innovation that can change the world.
We enrich our community through the power of mentorship and collaboration, guiding each other to success through shared experiences and expertise.
We believe in open, respectful discourse, including a diverse range of perspectives and the boundaries of appropriate communication.
We uphold the principles of academic integrity and intellectual property, including attribution of the work of others.