MIT Deshpande Center Grants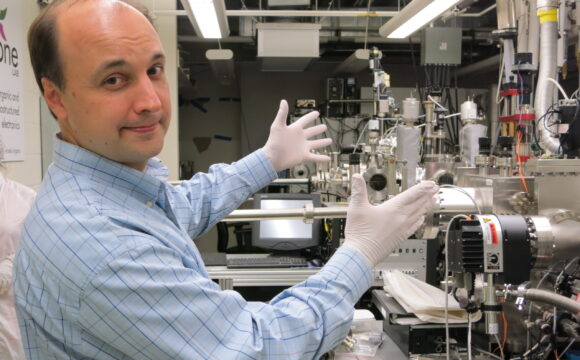 The Deshpande Center helps MIT faculty and students commercialize breakthrough technologies and inventions by transforming promising ideas into innovative products and cutting-edge spinout companies. The center makes pivotal investments in research, and provides valuable industry expertise.
A market-oriented perspective
Beyond funding, our program helps academically oriented scientists and engineers develop a more business-minded perspective on their work — which is essential when exploring potential markets and applications. An immersive experience exposes grantees to a rich net­work of experts — including other MIT researchers, venture investors, and executives with experience in early-stage companies —as well as events sponsored by the center and MIT's startup-friendly culture.
A "Catalyst" mentors each project funded by the Deshpande Center. These seasoned en­trepreneurs provide the research team with ongoing guidance as they assess market opportunities, commercialize their inventions, and launch startup companies.
Our Deshpande Center grants are open only to MIT faculty and students; applications must be submitted by MIT employees with Principal Investigator (PI) status. These grants help bridge a funding gap between government support for basic science and the availability of private-sector funding for emerging innovations.

The Deshpande Center also collaborates with the Alana Down Syndrome Center to offer grants through the Technology to Improve Ability (TTIA) program. For more information, visit our TTIA page.
---
2023 Key dates
February 12 — Pre-proposals due by 11:59 pm ET
March 17 — Full proposal notifications
April 17 — Full proposals due by 11:59 pm ET (by invitation)
Late April — Full proposal presentations
May-June — Grant award notifications
September 1 — Grant award start date
---
Grants are open only to MIT faculty and students; grant applications must be submitted by MIT employees with Principal Investigator (PI) status. 
All applicants must submit a pre-proposal, which will be reviewed by the Selection Committee.
The Selection Committee will review pre-proposals and will choose the most compelling projects and invite those investigators to submit a full grant proposal. (Written feedback will be provided on all pre-proposals, including those that are not selected.)
Researchers continuing the grant application process will be assigned a Deshpande Center Catalyst (mentor). The Catalyst will assist them in developing their submission package, which must include a full grant proposal and a budget. Applicants are also required to make a brief presentation to the Selection Committee.
Applicants will be notified of grant awards in late spring or early summer.
Questions? Contact us at deshpandecenter@mit.edu.
The center awards first-year grants of $50,000 to MIT researchers who are doing promising work with a potentially significant impact. By funding positions for graduate students and postdoctoral researchers, a grant allows the team to continue experiments that validate a concept and/or develop a working prototype of an invention. Grantees who accomplish their milestones and demonstrate lab viability are invited to apply to renew their funding.
Renewal grants are available by invitation only. Renewal grants provide the support needed to refine and enhance an innova­tion, systematically explore potential markets, and assess the commercial viability of specific applications. The ultimate goal is to attract sufficient investment to commercialize a product and launch a spinout company and/or to license the technology to an existing company. Funding for a renewal grant ranges from $50,000 to $150,000. Total funding cannot exceed $250,000 over the lifetime of the grant (including renewals).
A multidisciplinary committee selected from inside the Institute and from our Catalysts evaluates all applications. These individuals are participating under our conflict of interest and Catalyst guidelines. Please note:
Funding must be for research done in MIT laboratories
Proposals must be submitted by a faculty member at MIT (exceptions for sponsored research staff that are accorded principal investigator status)
Outside and cross-disciplinary collaborations are welcome
This is a competitive selection process and only the top ranked proposals will be funded
Selection Criteria for Initial Grants
Will commercialization of this technology create impact?
Is this technology likely to be spun out of MIT within 3 years?
Is there prior work on this technology, with experimental results?
Have likely markets been identified?
Is the scope appropriate for the $50,000 budget? High risk is OK, as long as feasibility can be determined. Will a grant greatly help move the technology toward commercialization?
Is Deshpande Center support – such as funding, partnerships, and mentoring – critical to success?
Is the PI eager to participate in programs and partnerships early on to increase likelihood of commercialization? Will the PI be a role model in encouraging innovation and entrepreneurship in their lab or department? Is this team eager to benefit from the Deshpande Center Catalyst Program?
Selection Criteria for Renewal Grants

The criteria for selection are similar to Initial Grants with the following modifications or additions:
Is this technology likely to be spun out of MIT within 1-2 years?
Has a strong market need or potential impact been validated? Is there a business model that makes sense?
Is there a proof of concept/product? Is there compelling experimental data indicating a reasonable technical risk?
Use of Funds
Funding shall be used for innovative research as described in the submitted proposal.

Program Participation
There is an expectation that principal investigators (PIs) funded by the Deshpande Center are keen to see their research make an impact on the marketplace, whether through a start-up or some other license.

The center provides guidance and team building opportunities through its Catalyst Program and connections to the entrepreneurial community. It hosts an annual IdeaStream symposium, an annual fall VIP Innovation Showcase, occasional workshops, and other events to enhance and highlight innovative work done at MIT.

Grantees understand that, if funded by the Center, they and their team will be asked to participate as appropriate. This includes staffing a poster at the Innovation Showcase and IdeaStream events, and presenting at IdeaStream.

Intellectual Property
PIs funded by the Deshpande Center shall seek to establish IP, where appropriate, via disclosures of potentially patentable inventions submitted to the TLO as normal MIT practice, with an indication that Deshpande Center funding has been used to support the work.

Communication
The PI shall communicate the project's progress through various means, including the following:
Initial kick-off meeting
Regular meetings with Catalyst (mentor) – as appropriate, usually monthly
Informal notification of all significant milestones achieved
Quarterly update reports
A midterm and final meeting
Final written report or presentation to the Deshpande Center
Publications – Publication of results from work sponsored by the Center is encouraged, and with Deshpande Center support will be acknowledged in all publications.
Media relations – When appropriate, PIs funded by the center might be asked to interact with the press. Media training will be available.
Reviewing Proposals
As part of the grant selection process, the Deshpande Center relies on MIT faculty to review proposals. If requested, grantee PIs agree to be members of the grant review and selection committee for a three-year term.

Conflict of Interest
Faculty funded by the Deshpande Center should follow MIT guidelines in Policy and Procedures and be diligent to avoid conflict of interest related to the funding.
2023 call for proposals
The 2023 call for pre-proposals is now closed. Please check back in the fall for information on the 2024 cycle. All applicants must submit a pre-proposal, which will be reviewed by the Selection Committee. Investigators with the most compelling projects will be invited to submit a full grant proposal.